CloudPull 1.4.1 is now available through this web site and through the CloudPull Software Update mechanism. This update has also been submitted to the Mac App Store, and will be available through the Mac App Store as soon as possible. CloudPull 1.4.1 has two significant changes:
Backup Exclusion Rules
Backup Exclusion Rules allow you to define criteria based on the Name and Type of item. CloudPull will not back up items that match any of your specified criteria. Instead, the item will appear with a status of "Will not back up". Rules do not apply to revisions of items that have already been backed up. Once a revision of an item has been backed up, CloudPull will not delete it based on new rules.
You can define Backup Exclusion Rules by clicking on the new "Edit Rules..." button under Advanced Preferences.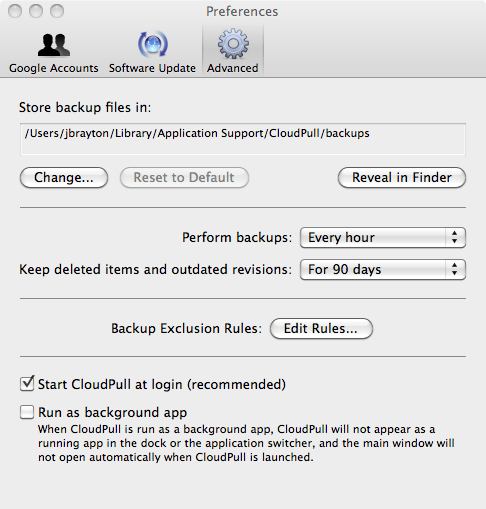 After you click on "Edit Rules...", this sheet appears: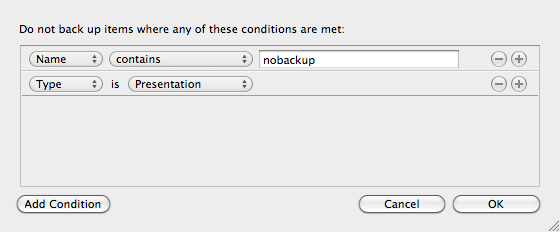 This mechanism allows you to avoid having CloudPull back up files to your Mac that you know already exist on your Mac. This is a relatively modest implementation of rules, but it solves a pain point for one customer; I think others will find it useful as well.
Shared Calendar Fix
This update also addresses an issue in which CloudPull failed to back up certain shared calendars. Specifically, CloudPull failed while trying to interpret shared calendar events where the only information available was that the calendar owner was "busy".
Update May 26, 2011: The CloudPull 1.4.1 update is now available in the Mac App Store.