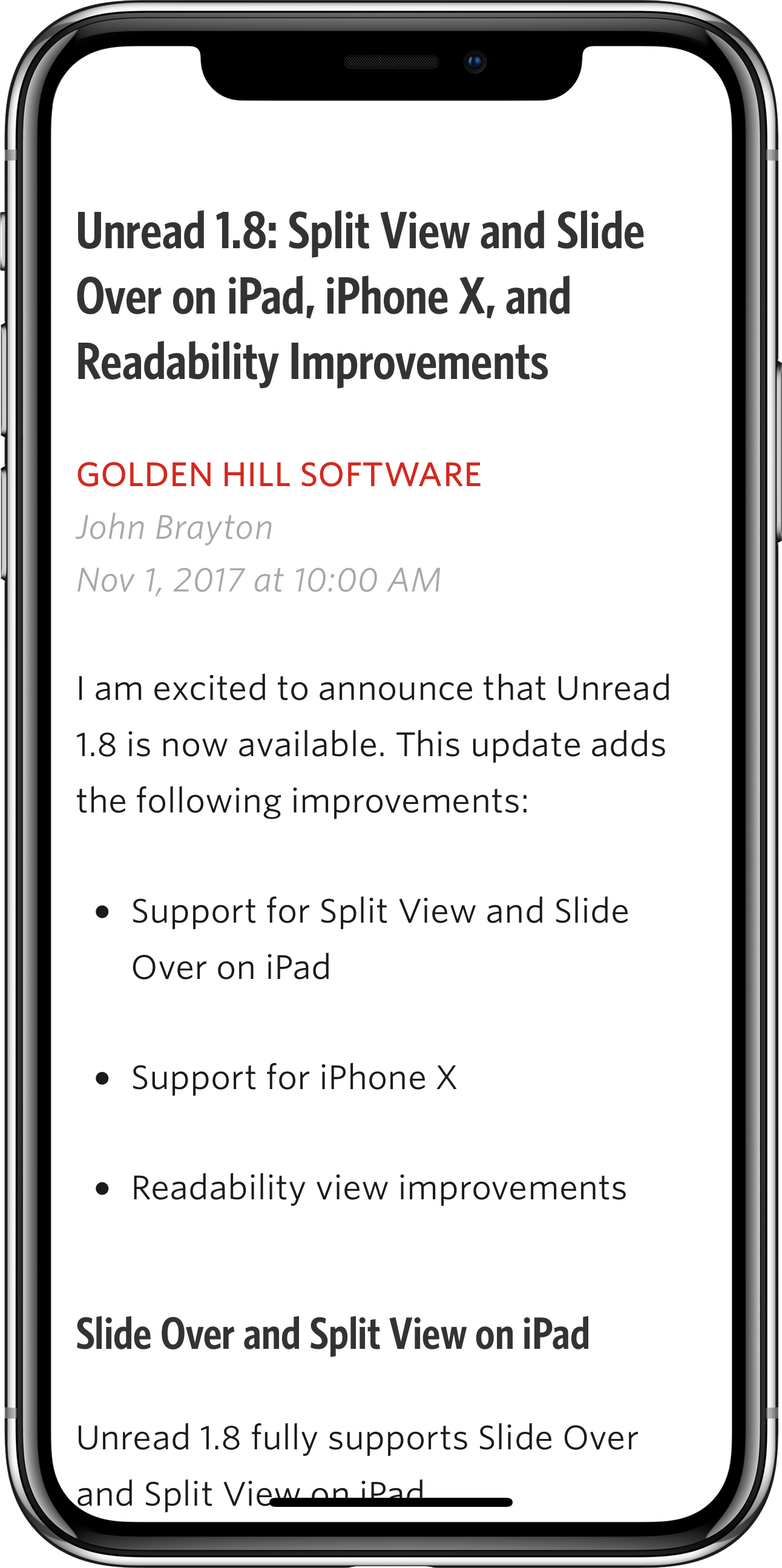 Rediscover the joy of reading your favorite writers with Unread, a beautiful RSS reader for iPhone and iPad.
Unread is a free download. After reading the first 50 articles, you are limited to 3 articles per day. For unlimited reading and to unlock 8 additional themes, there is a one-time in-app purchase.
Unread supports Feed Wrangler, Feedbin, Feedly, Fever, and NewsBlur.
"Unread is refreshingly simple and elegant. If you subscribe to RSS feeds and read them on your iPhone, take some time and use Unread for a while — I think you'll be glad you did."
–Shawn Blanc
"Unread provides a fantastic mix of elegant typography, intuitive gesture-based, one-handed navigation, iOS 7 features, and modern sharing tools that, in my opinion, make it the best RSS reader for iPhone today."
–Federico Viticci, MacStories
So Much to Love about Unread
Full-screen Reading: Focus on the act of reading with Unread's full-screen article view. Articles are typeset in beautiful fonts from Hoefler & Co. Let nothing stand between you and the words of your favorite writers.
Readability View: For truncated RSS feeds or linked list items, quickly load the full text of articles into Unread's beautiful readability view.
Designed for Comfort: Move anywhere in the app with a sweep of your thumb without having to reposition your hand. Unread's stacked navigation was built from scratch to be the most comfortable interface you've ever used. Flick left-to-right to go back from anywhere on the screen. Tug any screen right-to-left to show options for that screen.
Multiple Themes: Like to read in bed? Don't strain your eyes or wake your partner with glaring white light. Unread has multiple themes designed for easy reading under different lighting conditions including a Day theme, a Night theme, and a Black theme.
Accessibility: Unread has 100-percent VoiceOver coverage. Every screen and every feature is available to users with vision impairments. Actions on articles can be quickly triggered using the accessibility rotor. The font sizes are adjustable.
Footnote Popovers: Articles with properly-formatted footnotes will show convenient popovers when you need to read a footnote.
1Password Integration: Get your accounts set up quickly.