CloudPull 1.5.1 is now available through this web site and through the in-app Software Update mechanism. This update has also been submitted to the Mac App Store, and will be available through the Mac App Store as soon as possible. CloudPull 1.5.1 adds a variety of improvements:
Postal Addresses in Contact Backups
Prior versions of CloudPull wrote postal addresses as blocks of text in the "Note" area of the contact file. For example: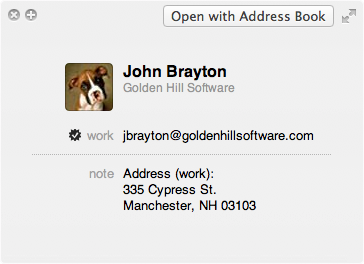 CloudPull 1.5.1 writes postal addresses as a structured postal address: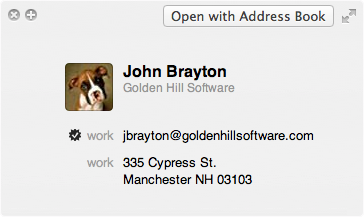 I want to thank the Google Contacts API team for the work they did to make this improvement possible.
During your first backup after updating to CloudPull 1.5.1, CloudPull will create a new revision of each contact that has a postal address. This will allow backups of your existing contacts to reflect this improvement.
CloudPull News Alerts
The Mac App Store Edition of CloudPull now optionally checks this web site for operational news alerts. This capability will be used very sparingly to alert customers to issues pertaining to the day-to-day use of CloudPull. Technical details regarding this new capability are described on a separate page. Since the in-app Software Update mechanism in the Standard Edition of CloudPull provides a suitable communication channel for urgent issues and fixes, this capability only exists in the Mac App Store Edition of CloudPull.
Bug Fixes and Crash Reporter
This update also contains some edge case bug fixes, and an updated crash reporter.
Update August 12, 2011: The CloudPull 1.5.1 update is now available in the Mac App Store.