CloudPull 1.5.4 is now available through this web site and through the in-app Software Update mechanism. This update will also be available through the Mac App Store as soon as possible.
IMPORTANT: If you are running Growl, you may not see the notification from the in-app software update mechanism that this update is available. You can, however, retrieve the update by selecting "Check Now" under Software Update preferences. This software update issue is addressed in this update.
CloudPull 1.5.4 contains these improvements:
CloudPull has been updated to reflect the removal of Shared Articles and Liked Articles from Google Reader.
CloudPull no longer uses Growl to post background notifications.
CloudPull now writes far fewer messages to the system log.
Several bugs, including one crasher, have been fixed.
Shared Articles and Liked Articles
Google Reader no longer supports the concepts of shared articles and liked articles. Therefore, CloudPull will no longer retrieve shared or liked articles from Google. Customers updating from older versions of CloudPull can navigate to the most recently backed up shared articles or liked articles by turning on a new "Show Shared Articles and Liked Articles" checkbox within Advanced Preferences.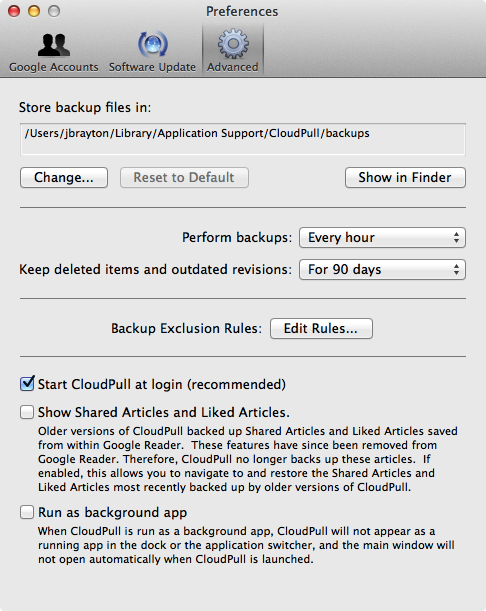 Update November 22, 2011: The CloudPull 1.5.4 update is now available in the Mac App Store.