CloudPull 2.2 is now available through this web site and through the in-app software update mechanism. This update adds several improvements.
Better Snapshot Management
CloudPull 2.0 introduced the concept of snapshots, allowing you to see your backups as of a certain point in time. Initially, the snapshots feature used the Versions capabilities introduced in Lion (OS X 10.7). CloudPull would use that feature to save a version of its database file for each snapshot. With CloudPull 2.2, information about both the current set of backups and about old snapshots is stored within the CloudPull database file; CloudPull no longer uses the Versions feature of OS X. This saves a significant amount of disk space.
Since the database format has changed, CloudPull will need to migrate your data into the new format when you first launch CloudPull 2.2. Migrating the current data and old revisions of items should happen within an hour for most customers. While that migration is taking place, you will see a progress window.

Migrating data from old snapshots, specifically the associations between old folders and items contained within those folders, could take much longer. Migrating old snapshots takes between five and ten seconds per snapshot; this adds up to several hours if you have been performing hourly backups and keeping all old snapshots. That will happen in the background after the app is running and has resumed backing up your account. While CloudPull is migrating data from snapshots, the app will otherwise function as it normally would; it will perform backups and allow you to access those backups. However, you will not have access to snapshots that have not yet been migrated. While snapshots are being migrated, you will see a progress indicator inside the snapshot popover.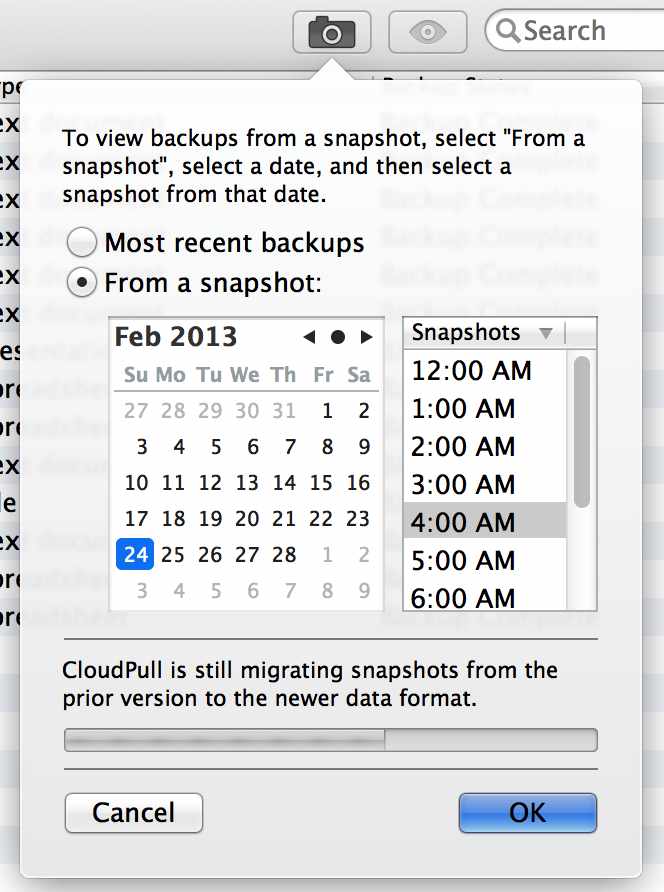 Sandboxing
The Mac App Store editions of CloudPull are now sandboxed. I published a description of sandboxing changes a while back. If you are using a Mac App Store edition of CloudPull you may wish to read that article. The Direct Download Edition of CloudPull is not sandboxed.
Mac App Store Listing Changes
There are now two editions of CloudPull in the Mac App Store:
The edition that can be downloaded for free is listed as "CloudPull Free", and will be referred to as the "Free Mac App Store Edition" going forward.
With the CloudPull 2.2 update, the version requiring payment will be listed as "CloudPull Premium", and will be referred to as the "Premium Mac App Store Edition" going forward.
It is worth clarifying that the Free Mac App Store Edition allows you to get all the functionality of the Premium Mac App Store Edition with an in-app purchase, and that the price of the in-app purchase is the same as the price of the premium edition.
Trial Version Changes
Instead of a free 30-day trial, the Direct Download Edition now has the same free trial terms as the Free Mac App Store Edition. You can use the app to back up a single account for an unlimited length of time. After buying the app for $9.99 (USD), you will have access to premium features such as:
Support for up to ten Google accounts
The ability to run CloudPull as a background app
The ability to store your backup files in an alternate location
This change will not affect customers who have already purchased CloudPull. The app will run for an unlimited time and with all the premium features just as it had.
This change will also not affect existing installations that are running as a 30-day trial. The app will continue to provide access to premium features and will continue to operate as a time-limited trial through the end of your trial period. If you are not interested in the premium features and would like to move from the free 30-day trial to running as a free app, please email me at jbrayton@goldenhillsoftware.com.
System Requirements
This update requires OS X 10.7.5 or OS X 8.0 or later. CloudPull 2.2 will not run on OS X versions 10.7.0 through 10.7.4. I have removed support for those versions because some APIs and bug fixes required for CloudPull to operate as a sandboxed app were added in maintenance updates to OS X 10.7. If you are running an earlier version of OS X 10.7, the update to OS X 10.7.5 is available for free through the software update mechanism within OS X.
Mac App Store Availability
The Premium Mac App Store Edition of this update has been submitted to Apple and will be available as soon as possible.
The first version of the Free Mac App Store Edition was version 2.2; these improvements are already incorporated into that edition of the app.
---
Update March 7, 2013: This Premium Mac App Store Edition of this update is now available.