CloudPull 2.3 is now available through this web site and through the in-app software update mechanism. This update has also been submitted to the Mac App Store and will be available through the Mac App Store as soon as possible.
With the Google Reader shutdown planned for July 1, this update focuses on supporting customers in preserving and exporting Google Reader data.
Shared and Liked Articles
For a long time, Google Reader had an ability to "share" an article with Google Reader followers and to "like" an article. In a redesign that was released in October of 2011, that functionality was removed and replaced with Google Plus sharing options. Although the functionality is long gone from Google Reader, the lists of articles that were Liked and Shared before that redesign are still available via the Google Reader API.
With this update, CloudPull will now back up Shared articles and Liked Articles. The lists of Shared and Liked articles can be selected from the left navigation pane of the main window. Just as with Starred articles, Shared and Liked articles are stored as Web Location files and can easily be dragged and dropped to the Finder. They can then be imported into Safari by dragging them into the list of bookmarks.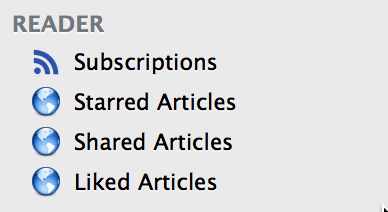 Interestingly, very old versions of CloudPull also had the ability to back up Shared and Liked articles. I removed the functionality after Shared and Liked articles were removed from Google Reader, out of concern that the information would become unavailable via the Google Reader API. However, the information is still available via the API. At this point it seems very likely that it will remain so until the Google Reader shutdown.
New Article Export Options
In addition to letting you restore bookmarks of Starred, Shared, and Liked articles as Web Location files, CloudPull now allows you to export these lists of articles as HTML Bookmarks files, suitable for importing into Safari, Chrome, or Firefox.
This option is available by right-clicking on the applicable item in the left navigation pane of the main window.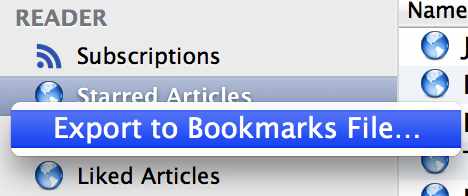 If you are running CloudPull as a foreground app, the ability to export your subscriptions and lists of articles is also available in the "File" menu.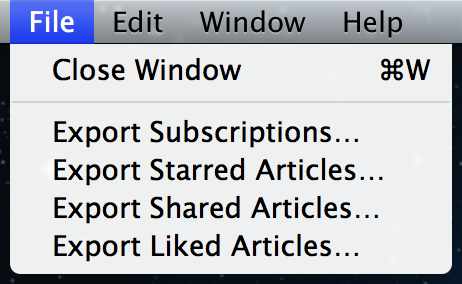 The ability to save bookmarks in these formats is a benefit to using CloudPull to export your Google Reader data. While Google Takeout also provides your lists of Starred, Shared, and Liked articles, it serves that data in a JSON format. The JSON format is suitable for reading and manipulating the data programmatically, but not for simply importing those articles into your browser bookmarks.
Locating the Backups Folder
With this update, customers who have not purchased premium features can now see the backups folder path in the General pane of the Preferences window.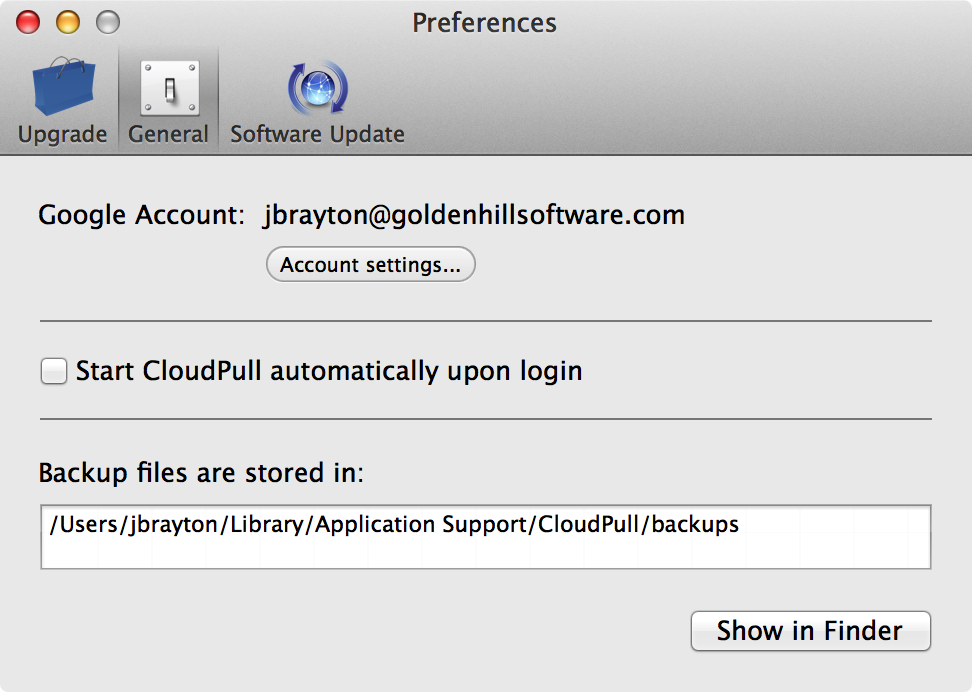 This change does not affect customers who have paid or who are within a 30-day trial. Paid and 30-day trial customers can see and change the backup location under the "Advanced" tab.
Important Bug Fix
This update contains an important bug fix for direct download (non-Mac App Store) customers who choose not to purchase premium features. Specifically, there was a bug where the app would expire on direct download customers after 30 days if it was not purchased even though it should never expire on customers who do not have premium features. I am sorry about that bug.
---
Moving Forward after Google Reader
Just before the Google Reader shutdown I will release a CloudPull update that disables backup of Google Reader. The app will continue to provide access to existing Google Reader backups.
If you are looking for an alternative news reader, I recommend NetNewsWire. I used NetNewsWire before I switched to Google Reader several years ago. The app was great then and it is great now.
NetNewsWire has not seen any major updates for quite some time and it uses Google Reader as its syncing mechanism. However, Daniel Pasco tweeted Friday evening that the app is under active development and that his company is working on a new syncing mechanism. Daniel is the CEO of Black Pixel, the company that owns NetNewsWire.
Exporting your subscriptions from CloudPull and importing them into NetNewsWire is very simple; right-click on "Subscriptions" in the left navigation pane of the main window and save those subscriptions to an OPML file. Then, in NetNewsWire, select the "Import Subscriptions" menu item under the "File" menu and select the OPML file.
Instead of looking for an alternative news reader, you might choose to rely on social networks for online news feeds. If you have been following this blog on Google Reader and choose not to use a news reader going forward, please consider following Golden Hill Software on Twitter, App.net, or Google Plus. You can also subscribe to the company mailing list, where I send only the biggest product announcements.