Unread 2.4 is available in the App Store This update adds widget improvements, the option to use Unread's custom menus as context menus, layout adjustments, and the ability to send an article to a contact via Messages.
Widget Improvements
The Recent Articles widgets now allow you to limit articles to those from a specific subscription or folder. There is now a header at the top of the medium and large widget that describes the source: the name of the subscription or folder, a label for the account if you have multiple accounts, or just "Recent Articles". The unread count is also now part of the header.
The medium and large Unread Counts widget now allows you to show unread counts by subscription in a specific folder. The total unread count is now included in the header. Tapping the header brings you to either the account screen or to the count of unread articles by subscription for the configured folder.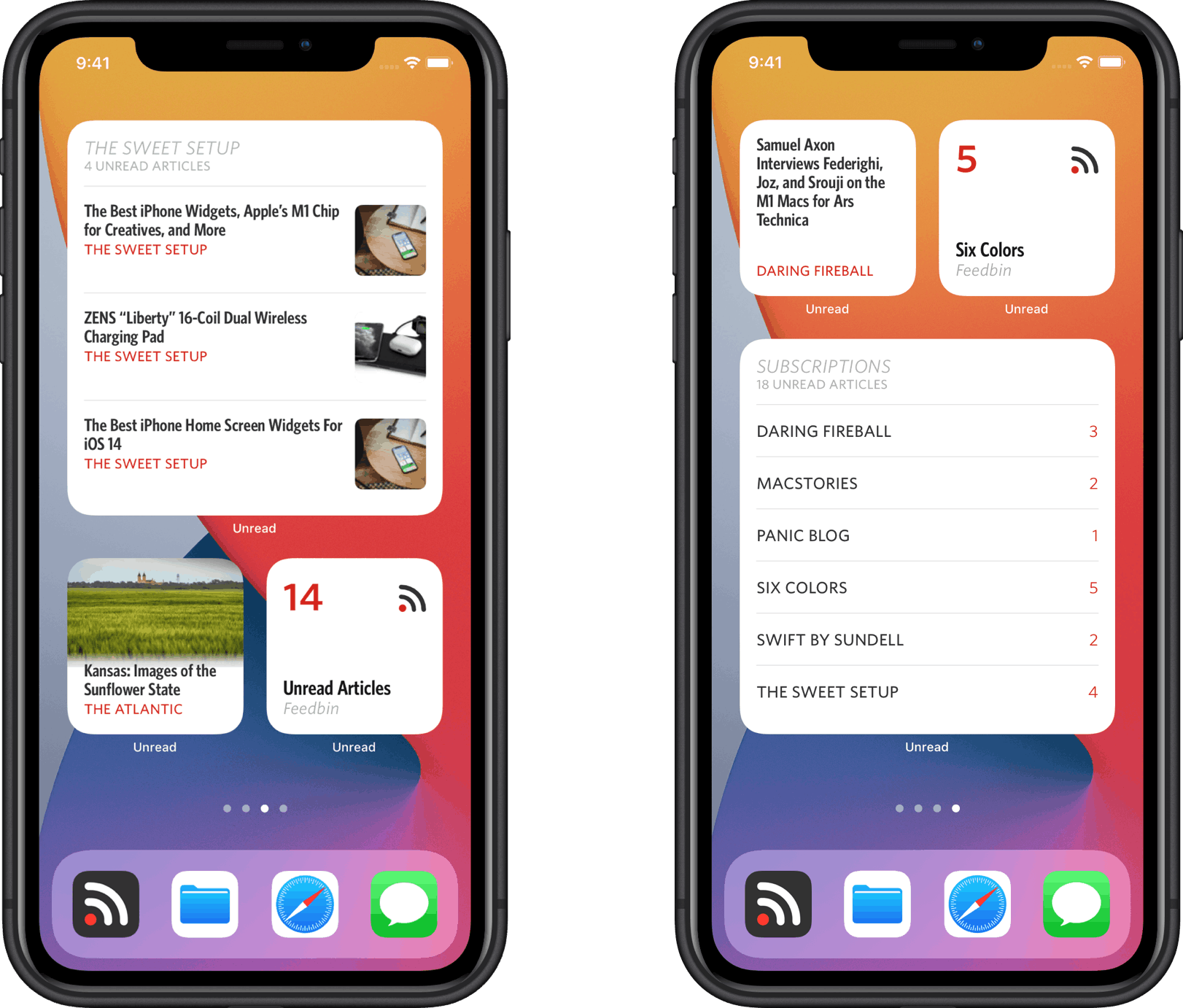 New Context Menu Option
This update adds a new setting to use Unread's custom menus — like the menu that appears when you swipe the screen to the left — as context menus that appear when you long press an item. In Unread 2.0 I adopted system context menus that were introduced in iOS 13. When you long press an item, you typically get a system context menu and a preview window.
I still believe it is important to offer the system context menus along with previews of items such as links in an article or articles in an article list. But since releasing Unread 2.0 I have come to the conclusion that for many customers the system context menus are a step back from Unread's custom menus. They more often require scrolling. Their menu items have much smaller tap targets. They are slower to appear on the screen.
If you wish to use Unread's menus for long press actions, you can do so with this update. Just open Settings, scroll down to Interface, select Context Menus, and then select Unread. The Unread setting will be the default for new installations. For existing installations updating to this version, the default will be System.
Please be aware that previewing links and drag and drop actions are only available with System context menus.
Layout Adjustments
Unread now uses much narrower margins on the iPhone. On the iPad, its margins are generally narrower but they adjust based on the font size. Customers on iPads with larger font size settings will see narrower margins.
Messages Article Action
This update adds a Messages article action. After enabling it under Settings → Article Actions, you can quickly send an article via Messages from the swipe left menu of an article. You can also use the control-i keyboard shortcut.
Other Improvements
On iPad, the context menu for an article in an article list now includes an Open in New Window item. This change also applies to other lists of items.
On iPad, you can now see options for the selected article in an article list with an o keyboard shortcut. This change also applies to other lists of items.
This update adds performance improvements around refreshing accounts. The performance improvements will be most noticeable when syncing a Feed Wrangler account with a large number of smart streams.
Opening a selected article with the n keyboard shortcut is now smoother. This change also applies to other lists of items.
Menu items in swipe left menus and Unread context menus are now slightly shorter. This helps reduce the need to scroll those menus.
Animations around navigating into and out of child views are now slightly faster.
Unread 2 can now be launched with the URL unread:///. While this will work even if you also have a fairly recent version of Unread 1 on your device, it might launch an old version of Unread if you have a version from one of its prior owners (from before August 2017) on your device. If you have a workflow that uses the URL ghsunread2:///, that will continue to work indefinitely.
Unread will now find article list thumbnails for videos from YouTube's feeds.
This update incorporates Feedbin's new logo.
The context menu for an image embedded in a link now contains options for some enabled Article Actions.
This update fixes a bug that caused swipe left menus to start underneath the iPhone notch under some circumstances.
The article action that creates a new email message with a link has been renamed to Mail Link. The article action that copies a link has been renamed to Copy Link.
This update adds improvements to the quality of article list summaries.
This update fixes a layout bug around the display of camera icons inside captions in ilovetypography.com articles.
After detecting that a Feedbin email address or password has stopped working during a manually-initiated refresh, Unread will now warn that it cannot log into the Feedbin account. You can now change the email address and password of a Feedbin account by long pressing that account on the Unread home screen and selecting Update Password from the resulting menu.
If you are happy about this update please consider leaving a review in the App Store, writing about it on your blog, or telling your friends on social media.