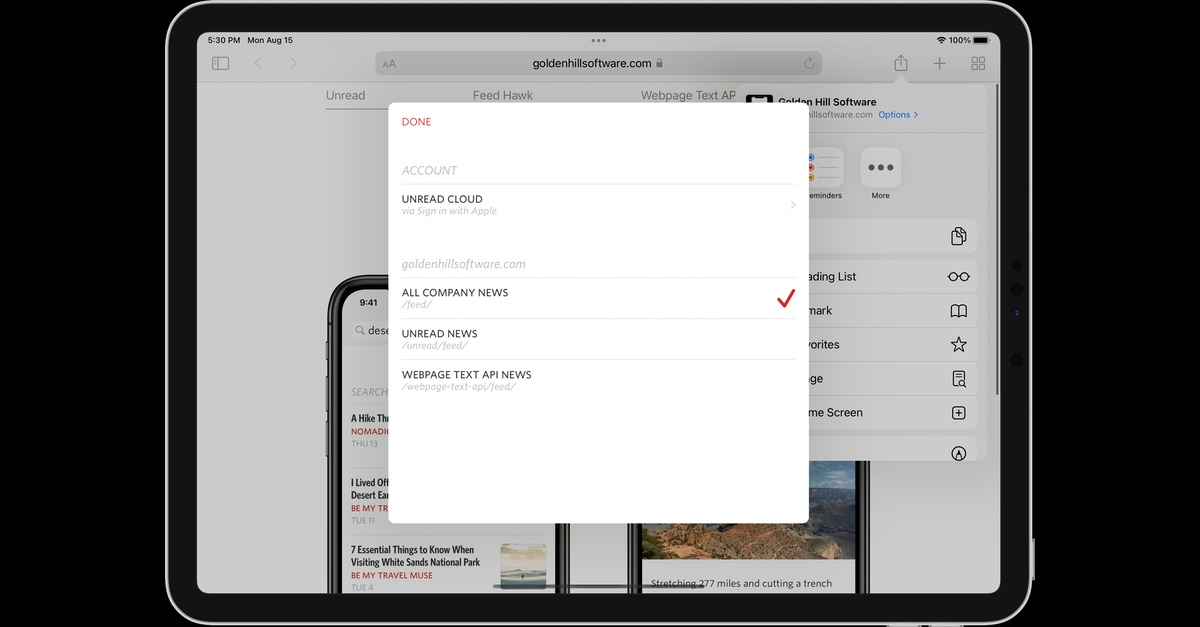 Unread 3.1 is available in the App Store. This update adds a Subscribe in Unread share sheet extension, making it easy to subscribe to feeds offered by the website you are visiting. This update also adds webpage text feature improvements and more.
New Share Sheet Extension: Subscribe in Unread
From Safari or any other web browser, open the share sheet and select Subscribe in Unread. The extension will present a list of feeds offered by the website you are visiting. Subscribe to any feed. You can set a custom title, assign groupings (folders, smart streams, or tags — whatever groupings your account supports), and even create new groupings. If you are already subscribed you can edit the subscription or unsubscribe. Subscribe in Unread incorporates Unread's typography, context menus, color themes, and great hardware keyboard support.
Subscribe in Unread works from Safari, Chrome, Firefox, in-app Safari views, and just about any other web browser on your device. It even works from the YouTube app, letting you subscribe to YouTube's channel and playlist feeds.
Subscribe in Unread supports Unread Cloud, Local accounts, Feed Wrangler, Feedbin, Feedly, Inoreader, and NewsBlur. It does not work with Fever API accounts because the Fever API does not support subscription management.
Here is a video demonstrating Subscribe in Unread:
Webpage Text Feature Improvements
The swipe left menu of an article now contains a Display item. After selecting that, you are given the option of Feed Text, Webpage Text, or Feed & Webpage Text. The option representing the currently displayed content is highlighted. Pressing command-shift-t on a hardware keyboard while viewing an article also displays the menu letting you choose Feed Text, Webpage Text, or Feed & Webpage Text.
Unread now refers to articles consisting of a link to and comment on another article, such as those from Daring Fireball, as "link articles" instead of "linked list articles".
Other Improvements
This update adds feed discovery improvements around feeds from YouTube and from Medium.
Pressing command-l or command-f from the Add Subscription screen now puts focus on the Website or Feed URL text field.
Selecting a feed to which you are already subscribed from the Add Subscription screen now presents the screen letting you edit the subscription. Long press any feed for a context menu letting you view the website, copy the feed link, or unsubscribe.
This update adds the ability to export a list of unavailable feeds in your Unread Cloud account or Local account to a JSON file. To access this functionality, navigate to the Feed Errors screen, swipe left, and select Export Feed Errors from the resulting menu.
The Unread Cloud sign-in screen now shows a header of "Unread Cloud" instead of "Unread: An RSS Reader".
This update adds modest improvements to the heuristics around determining whether an article is a link article.
You can download Unread from the App Store.